*The Sci-fi anthology, Octavia's Brood: Science Fiction From Social Justice Movements, will be released in Spring 2015 by AK Press! The anthology includes short stories from LeVar Burton, Terry Bisson, Alexis Pauline Gumbs, Alixa Garcia, Autumn Brown, Bao Phi, David Walker, Dani McClain, Dawolu Jabari Anderson, Gabriel Teodros, Jelani Wilson, Kalamu ya Salaam, Leah Lakshmi Piepzna-Samarasinha, Mia Mingus, Morrigan Phillips, Tara Betts, Tunde Oluniran, Vagabond, adrienne maree brown and Walidah Imarisha, essays by Tananarive Due and Mumia Abu-Jamal, as well as an introduction by Sheree Renee Thomas.
*Kickstarter fundraiser for Latino/a Rising , an anthology featuring U.S.-based Latino/a science fiction work.
*Fundraiser for "Kindred: School-Wide Summer Reading" class project (Ms. Durkin's Books project at Coppin Academy 432 in Baltimore, MD): Help every student in the class receive a copy of Octavia Butler's book!
*Afropunk's "FEATURE: Visual Artist Melanie "Coco" McCoy Unravels The Mystery of Sankofa & Afrofuturism:" "When you scroll through Black Twitter or Tumblr you see a lot of young, Black radicals talking about protesting the injustices against our communities and wanting to change the mainstreams ideas pressed on us. However, how many of those "activists" do you really see out in the streets making that wanted change? Visual artist and writer Melanie "Coco" McCoy is regularly amongst the mobs of protesters on and off the computer screen. She stands for Black liberation, feminism/womanism, Black history, spirituality, Afrofuturism, Black female sexuality, and Afrocentric ideals. Many of these resonate in Coco's paintings. She uses the ideas she studies at Temple University as a African American Studies major and incorporates them into much of her work. Much of her work is based on Sankofa. Sankofa is an Akan word (originating in Ghana) meaning, 'to go back and fetch it.' Coco believes deeply in that saying (that we've all heard time and time again) 'you don't know where you're going unless you know where you're coming from.'"
*Atlanta Blackstar's Blerd's "Black Speculative Tech – Uses of Technology in Black Science Fiction, Part 1:" Rasheedah Phillips (The Afrofuturist Affair) is looking for other examples as well.
*Exhibitions:
– i found god in myself: Curated by Souleo, the Schomburg Center is presenteing a multigallery exhibition honoring the 40th anniversary of Ntozake Shange's book, For Colored Girls Who Have Considered Suicide/ When the Rainbow Is Enuf. "i found god in myself explores issues of femininity and gender, love and loss, empowerment and sisterhood. Through 20 specially-commissioned visual pieces by local artists including Renee Cox, Rafia Santana,  Margaret Rose Vendryes, Dianne Smith and Kimberly Mayhorn,  the exhibition garners inspiration from the influential choreopoem while providing commentary to the social, political, and personal issues affecting women of color." The exhibition is open until January 3, 2015 along with other satellite exhibits. See the Souleo and Renee Cox interview on NBC New York.
–funkgodjazz&medicine: Black Radical Brooklyn: "Creative Time and Weeksville Heritage Center present Funk, God, Jazz, and Medicine: Black Radical Brooklyn, a walkable month-long art exhibition of four community-based art commissions by Xenobia Bailey, Simone Leigh, Otabenga Jones & Associates, and Bradford Young. Black Radical Brooklyn launches from the site of Weeksville, a Brooklyn community established by free and formerly enslaved Black citizens 11 years after abolition in New York State. Black Radical Brooklyn draws inspiration not only from this story–achieving self-determination through the claiming and holding of a neighborhood–but also from radical local battles for land and dignity from the 1960s to today." The exhibition is open until October 12 and includes a series of discussion events. Here is AADAT's interview with Creative Time's Nato Thompson.
–Caribbean Carnival Portraits: York College presents a photography exhibition featuring the photography of Mario Picayo and Mariano Hernandez.
-Good Magazine's "Nick Cave Puts Racism on Display:" Feature on Cave's two-part exhibition, Rescue and Made for Whites by Whites.
*On October 5th in Pittsburgh, Pennsylvania, Joy KMT will be hosting the Numinous Magic Market and Healing Workshops event!
*Fecal Face's "Interview with Chris Burch:" "JFAIII: You frequently use a character known as the Trickster throughout your work.  I have seen this character since our first late night studio sessions back in 2006-07.  What exactly is the trickster and how does the trickster archetype tie into the historical legacy of American Blues Music?
CB: The trickster is an idea that has captured my imagination and thoughts for as long as I can remember. As a kid I used to read a lot of Greek Mythology and many of the stories that I was naturally pulled to were ones dealing with humans attempting to overturn the laws of the natural world- to challenge the gods and goddesses. My first fascination was with the stories of Icarus (to this day I see him as a trickster figure because he dared to touch the untouchable). Prometheus was another figure, because he stole fire and brought it back to humanity. To me it's the challenge of inverting the norm (whether it be for a benevolent or malevolent cause) that personifies the trickster. Many of the figures, whether real or fictional, I later began to appreciate all had that in common- they posses a unique ability to challenge the status quo and bring the gods fire back to us. Sometimes they succeed and other times, because of a multitude of human shortcomings, they come crashing back down too earth. The blues are deposits of human experience; humility, pride, desire, hatred, love, and loss all dance together in the same song. I feel that the context/environment that gave rise to the blues was so hostile that in order to create a genuine testimony of ones experience you had to posses an uncanny ability to signify- to create a coded language that was only understandable by the initiated. So for me the blues and trickery go hand and hand. You couldn't navigate the terrain of American apartheid, being a person of color, without being slick (and if you were a woman of color then you had to be twice as slick, research Zora Neal Hurston, Nina Simone, Ma Rainey, Etta James, Big Momma Thornton…etc.)"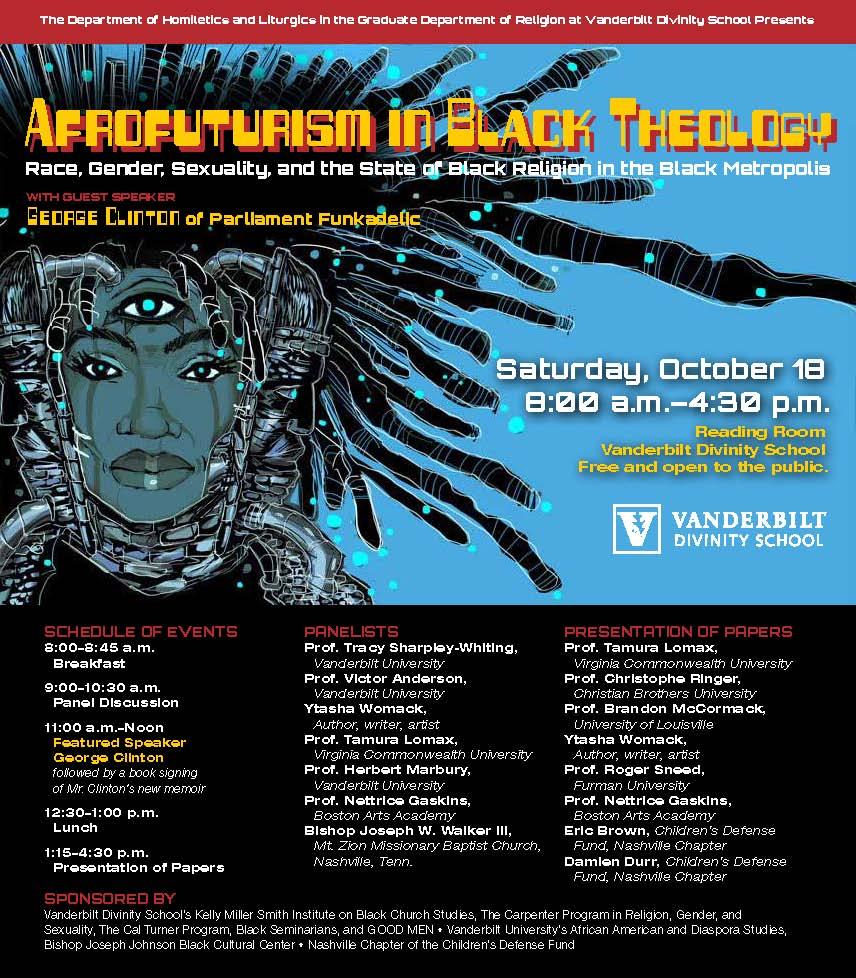 *On October 18th at Vanderbilt University's Divinity School, there will be the conference, Afrofuturism in Black Theology: Race Gender, Sexuality and the State of Black Religion in the Black Metropolis. Besides Ytasha Womack and Nettrice Gaskins as two of the panelists, George Clinton will be a guest speaker.
*On October  23rd and 24th, Columbia University is presenting a conference, Are the Gods Afraid of Black Sexuality: Religion and the Burden of Black Sexual Politics. See the full schedule here.
*Huffpost's "Midnight Vistas: Afrofuturism Is for All of Us:" Darryl Smith's article about afrofuturism and the Midnight Vistas conference in February 2015.
*NY Mag's "The Most Feminist Moments in Sci-fi History" list includes Nichelle Nichols, Janelle Monae, Octavia Butler, and Samule R. Delany.
*NPR's "Finding A Voice — Again — In The Pages Of A Comic Book:" This is a sweet story about a comic book, astral projection, sickness and memory, and unconditional love.

*Nerds of Color's "Cosplaying While Black?: The Homicide of Darrien Hunt:" I guess this is another thing to add to the list of things black people get killed or attacked for.
*La Review of Books' "Karen Burnham on Lonely Stardust: Empire, Empathy, and Identity:" A Review of her anthology in which critiques dominant speculative fiction narratives and how they handle identity.
*See sci-fi-influenced photoshoots from FKA Twigs and Rihanna.
*Wu-Tang's Killah Priest is coming out with a book, Illuminated Lyrics.
*Phenderson Djèlí Clark's "A Space Knight Like Rom:" Hip Hop and Science Fiction Fantasy:" "This incident is what came to mind when I read the title of that WSJ article: Unlikely Mix: Rappers, Dragons and Fantasy. What exactly was so "unlikely" about it I wondered? Would it have been as unlikely if it was a rock band? Heck, I'd expect a country music album featuring dragons and fantasy to be more of an unlikely mix. No, the real problem was those voices [read as BLACK] were again out-of-place. Everyone knows what rap music is supposed to be about. That those same artists might be involved in something that is part of the hallowed intellectual space of geekdom seems as absurd as MC Pointdexter & the Study Crew. And that makes zero sense, because let's face it, Big Boi looks like he was BORN to rock the Iron Throne."
*Recently I wrote a review of CCCADI's Women of Axe events. Here is an article from Al Jazeera about the persecution Afro-Brazilian religions face.
*I totally forgot about the show Extant. Looks like that was a good thing.
*New Music:
–Dane Verret from Hepicat created an electronic (style: Cacao – A New Orleans 'Lectro Sound) track, "Ode To Black Mythology (The Butlerian Mysteries)" in honor of Octavia Butler:

Ibeyi's "Mama Says"