This is for all the Diesel Funk fans out there and for Women's History Month!
What legacy are we leaving for others when we dare to dream our special dreams, despite all the limitations that face us or all the naysayers? That is what Madeline McCray aims to answer in her one-woman performance, A Dream to Fly, at the Schomburg Center last Friday, taking on the voice of the first Black women licensed aviatrix, Bessie Coleman.
Beginning with a radio announcement reporting the death of Coleman at the age of 34 from a tragic airplane accident and a eulogy from Ida B. Wells, Coleman is in a limbo state shocked by the untimeliness of her death and wanting to tell her story before she goes. The radio turns into a kind of God-head allowing her to tell it but reminding her that it is time for her to go. McCray inhabits and brings to life Coleman, showing all the facets of her — her strong, independent will and bold personality and the doubtful, lonely side of her that fears she is making a mistake going after this dream so outside of her reality, a daughter of a sharecropper in Texas.
But even with that McCray still gives Coleman in the writing and performance a magnetic charm and hope that you know Coleman will overcome because her spirit searches for something more, to grasp that bright shining star as she says. No person could hold her back search for her dream, not her drunken veteran brother who laughed at the possibility of her being a pilot as she worked as a manicurist in a barbershop, not the lover of her life, Freddie, who wanted to marry her but only if she gave up her dream of flying, not the homesickness she felt as she went to France to become a licensed pilot, and not society who told her to conform to conventions and that her goals did not fit the stereotypes of what a black women should be, that she needed a man, was a man or was an uppity negro because of them. Coleman even declined to filmmakers trying to put her in a box by wanting to make a film, Shadow and Sunshine, which would degrade black people more, and took the backlash when she did. She stood up to all the people who looked at her funny at airplane shows. Coleman always chose the sky, that is where her passion and power lay.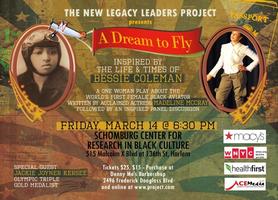 Bessie Coleman was ahead of her time; she knew that black people needed aviators to keep pace with the times. She knew that the dream mustn't be buried with her, that her body was in the grave, but her dreams were all lived up and still living, as said in the performance. We should see ourselves flying like everyone else and to remember as McCray ends with in her play, that "the only way to be safe is to belong to the future," to that other world of possibility.
Currently, there are other works in the making about Bessie Coleman. Euzhan Palcy, who directed Sugar Cane Alley and A Dry White Season, is working on a film about her. There is also other works about her, like The Barnstormers Musical and A Shadow in the Clouds focusing on her life and the children's book, Nobody Owns the Sky by Charles Lindbergh's daughter, Reeve, among several others.
Watch McCray discuss the play below: